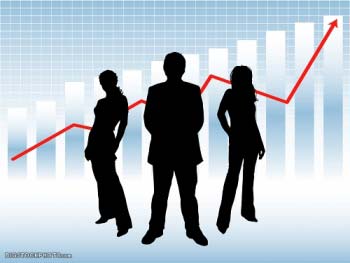 As Monday was a holiday in the US, I'm sending out two blogs today. Just to catch up a little.
The Center for Creative Leadership (CCL) is, quite possibly, the best place to learn about new leadership and workplace trends and ideas. Certainly, in my Organizational Development days, it was a site that I referred to frequently for statistics and research, as well as encouragement and support. So I was thrilled when one of my Google Alerts highlighted a CCL report about workplace attitudes.
The findings seem quite optimistic and exceedingly positive, especially given the economic climate of the past couple of years. Here are a few findings from the report:
… our managerial and professional workforce finds meaning in work and is motivated to take part in organizational life …
Also…
U.S. and Canadian respondentsare mostly happy and intrinsically motivated workers.
And…
Job satisfaction is high, and has not declined since 2008. Pay satisfaction is neutral to mildly positive, and has not changed since 2008. Respondents report feeling generally supported by their organization and supervisor, which has not changed since 2008.
This seems overwhelmingly positive, even with respondents reporting that they work long hours (men more than women) and that they experience problems with work-life balance (women more than men).
Yet the devil is always in the details, isn't it? Looking at the research methods unearths this compelling fact about who took part in this survey:
74% of respondents had enrolled in a CCL program
Seventy-four percent? I doubt highly that we can generalize this sample to the American or Canadian workforce. Would we think that 74% of employees or managers or leaders have been on a CCL program? Or that 74% of the North American workforce has been on any sort of leadership training in the past year? In their entire career?
What can we reasonably imagine about people who take part in a CCL program? Chances are that they are valued employees. Chances are that their workplace is paying for them to attend the program. Chances are that they have secure jobs, because businesses don't (usually) send you on a leadership program and then turn around and fire you. And businesses don't (usually) send low-performers on high-quality courses like the ones the CCL offers either.
I'd like to suggest an alternative interpretation for the CCL results.
It isn't that there is a substantial new hope for the workplace or for renewed employee engagement; rather, if you wish to foster employee engagement and interest in the workplace (as evidenced by organizational commitment, intrinsic motivation, more productivity, greater job satisfaction and a positive outlook about the company), then you need to invest in the development of your employees.
It isn't just about CCL workshops or other programs like that. It is about caring about general satisfaction, being sensitive to work-life issues, valuing contributions and providing interesting meaningful work. Even small employers with limited T&D budgets can manage that – an essential human contact that says, hey, we care and you're important.
Like positive psychology says, other people matter. That should be a part of everyone's work experience.
.
How did you show someone at work that you cared today?